Documenting Life in Quarantine...
This is the kind of thing we read about in history books.  Something we never could have imagined would happen to us and our families.  But yet, here we are.  Many of us struggling through our days with anxiety and battling with our fear of uncertainty.  We are grasping for hope in every humorous meme and online musical dance party stream.  We are getting through it by laughing, perhaps so that we don't completely fall apart.  Believe me, I have.  We are turning to our Lord for peace through online church service and worship time at home.  We are beginning to homeschool our own children, no matter how ill equip we feel we are for the job.  The teacher's are equipping us, thank goodness for them.  The reality is, no matter how you are dealing with all of this change, I know it is isn't easy.  I feel for you.  It isn't easy for any of us so you certainly are never alone.  We are all in this together...separately...at a distance.
Personally, this has been a tough time for me.  I feel loads of stress emotionally and most days I feel outside of myself.  My sense of purpose taking a hit as survival and necessity overrides art.  Yet knowing art is soul and without it we are even more lost.  But then I saw a post from a photographer friend in another state.  She was beginning to schedule front porch sessions with families in her local area.  And then I saw other photographer's I follow doing the same thing.  And there it was again, my purpose.  With my background in journalism I've been telling myself to keep my batteries charged through this crisis because there will come a time where my skill set will be important...critical even.  And it hit me.  That time is now.  We are already there.  So while I will be documenting families, I also plan to document this place in time in our world in empty streets and restaurants.  Gloves and masks on passerbys.  The empty grocery store shelves.  And the innocent smiles of my children.  I will hold tight to my camera, knowing it is providing an insight, a visual storybook, into this strange place in time and it will ground me when I feel my hope slipping.  I hope to provide some valuable perspective that we can look back on one day and say "remember when".  This is what it was like then...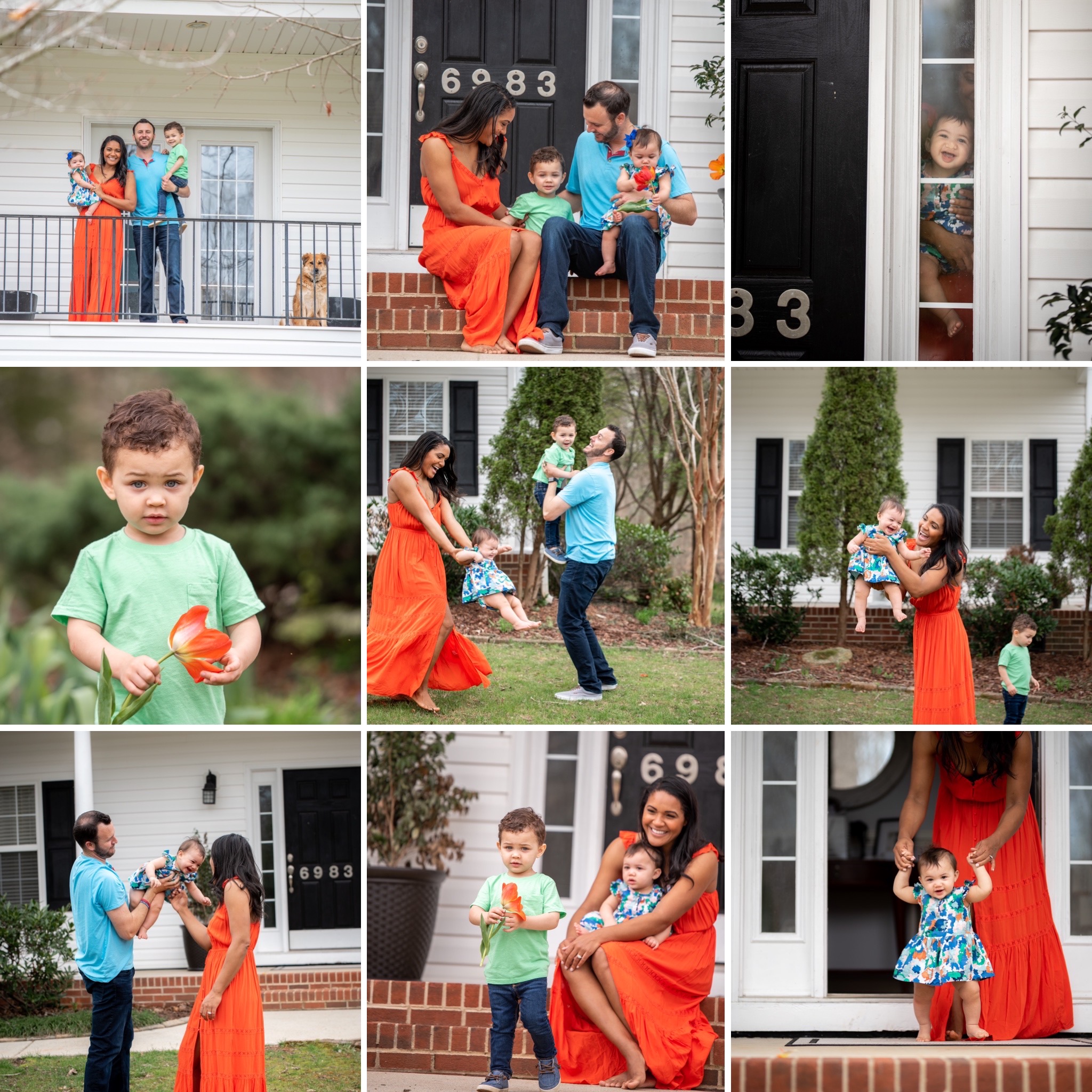 Our hope is in the helpers. I am renewed with encouragement. I believe this work will be quite healing for me. It already has been.  And I hope it will be for you.  Getting back to my craft in a documentary way will strengthen my spirit.  I hope these "Front Porch Sessions" will bring some lightheartedness and joy to your home as we document a unique time in the life of your family.  I hope you can look at these one day and say, our families, our communities, really came together during that time.  We bought groceries for each other so only one person had to go.  We offered our paper towels and Lysol when our neighbor had none.  When toilet paper was a hot commodity...we gave.  We are the givers.  We had TIME.  We made the most of that time together.  We were present with one another...even at a distance.  Checked in on one another.  Facetime'd our loved ones.  We need to do that you guys.  Check in on your people often.  I hope we can even say we appreciated one another more.  We showed grace.  Understanding.  Patience.  Loved a little bit harder.  Found a gratefulness for life and all the things we take for granted.  We drew closer to each other and to God.
***I want to be clear that we must respect the guidelines from our leader's in the medical field during this time.  I believe it is critical that we stay home and "social distance" to "flatten the curve".  I understand why.  We really need to lock down, in quarantine and keep a healthy social distance any time we must go out into the world.  The purpose is clear.  To save lives.  With all that said, we also must continue to live our lives in the healthiest way possible.  My goal here is to document life and bring joy to those in my community.  As I document our community I will be using a 200 mm lens which is what I use at weddings in order to stay far enough back to avoid being intrusive during the ceremony.  There will be plenty of distance between myself and any family I shoot for.***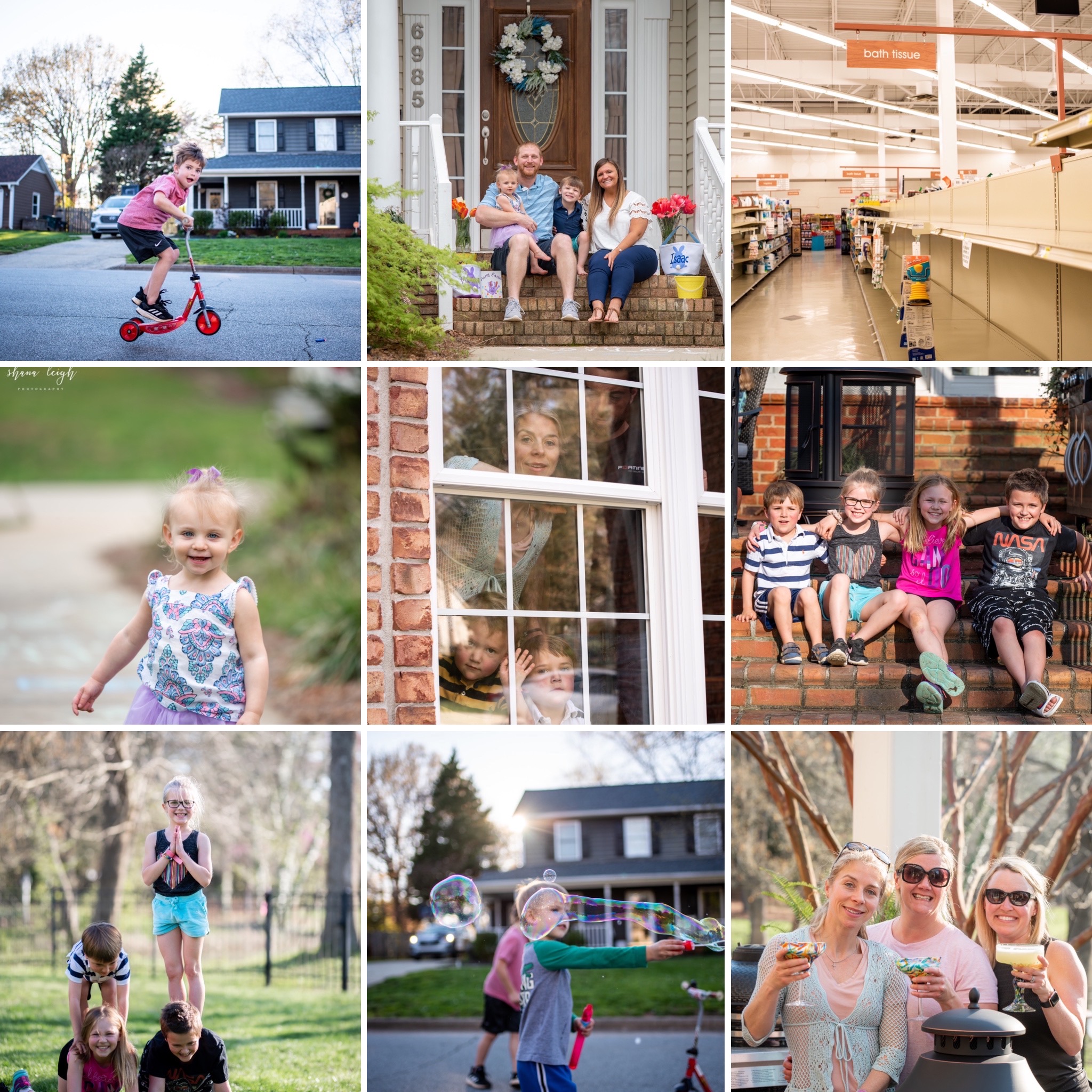 HERE'S HOW IT WILL WORK:
1. Email me at shanaleighphotography@gmail.com - Provide your home address. If you have a list of neighbors on your street that are interested please provide their addresses as well and their email addresses.  It is very helpful to have a group of neighbors as I will be driving around the Triad.  If there is a certain day that works for you let me know.  Generally 5:00 - 7:00 p.m. is the best time for golden lighting.
2. I provide the date and time via email.  Please be patient as I receive inquiries and plan logistics.  I will take on as much as I can and do my best to get to everyone that is interested.  I will reschedule with you if it is raining.
3. I show up and you pose on the porch or in your yard. I snap the photos from a safe distance (using my 70-200 mm lens) and that's a wrap -- these will take 5 minutes -- quick and easy! You choose to dress up, wear your best survival gear or kick back in your pajamas. 
4. I'll email you a gallery to choose 3 digital images to keep. Additional images can be added on at that time for an extra fee.  You select your favorite images by rolling over the image and selecting the star.  Once you have chosen your images just let me know and I will release the downloadable version to you.  
5. Price point is $30 (unless distance requires travel fee). $10 from each shoot will go directly towards providing PPE (personal protective equipment) to individuals in the medical field on the front lines of this pandemic.  I will announce on Facebook how much I was able to raise for the PPE once I feel these shoots are "complete".  I will also announce where the money has been donated.  Payment can be made to Venmo @Shana-Thompson-1 at the time of the shoot.  You may also send it by Zelle bank transfer to Shana Thompson at 336-587-0693.  I also accept Apple Pay at Shana Thompson 336-587-0693.   
YOU CAN GET CREATIVE HERE'S HOW:
I'll be excited to see how each family chooses to document this time.  You are more than welcome to run with it however you wish.  I love candids and unique style.  It's kind of my jam.  So I will certainly roll with anything you bring to the table.  And yes, get the pets in there too!
Spring Outfits
Easter best
Pajamas
Quarantine Themed - masks, can of beans, sanitizer, TP
Favorite Costumes
House party style, props and decor
If you are, like me, having to celebrate a birthday in quarantine then think about streamers, cakes, confetti, silly string, balloons.  
Celebrating a first birthday?  Get that cake smash in there!
Are you one of those sunning in your driveway??  Do it up beach style.  Swimsuits, sunscreen, tropical beverage.
There are no rules here accept DISTANCE.  :-)
WHEN I ARRIVE AT YOUR HOME, HERE ARE SOME WAYS TO HELP ME SO I DON'T HAVE TO GET TOO CLOSE.  IT WILL HELP PREP YOU SO I CAN DIRECT FROM A DISTANCE:
Based on the style of your shoot think about ways to pose.  I am excited to see what you come up with.  It is very much up to you what you want for your photo.  Have fun with it.  
The order of the photos will be:
1) Front Porch Photo - smile at the camera first!  Then we will snap some candids of the family loving on each other so big group hug, tickle the kids, say a funny word that you know will get your kids laughing...mainly, look at each other and not at the camera.
2) Move the family to the yard.  Stay close together but you don't have to pose at the camera for these unless you want to.  If there is something you guys have been doing a lot of lately show me that.  Maybe it's swinging, riding bikes, drawing on the driveway with chalk...anything.  You can always play ring around the rosie, bubbles, play chase or dance with each other.  Remember that candids are so beautiful and kids will have more fun if YOU ARE HAVING FUN.  Play with them, dance with them, pick them up and toss them in the air.  Hold hands and run through the yard together.  Grab your favorite quilt and put the kids on it while Mom and Dad swing them.  Shake the quilt out and let the kids run around you or under the quilt.  These make for fun times for the kids and the BEST photos!
3) Individual Poses - mother with children, father with children, couples.  This is a time to document any specific shots you want.  Some of these candids will happen naturally during the yard/playful shots.  If you want posed shots with any member of your family this is a good time for that as well. 
I will give guidance from a distance as much as I can, as I would a normal shoot.  Keep in mind we are working in a short time frame, in unusual conditions, so the better you prep the more shots we can get!  
This is a creative way for me to continue my work as a photographer as I navigate this unknown territory of social distancing.  It's also a great way for you to support my small business during this uncertain time. AND an easy way to get a few family portraits since you guys are all together anyway!  I AM SO GRATEFUL FOR YOU and for your interest in a family shoot during this time.  I am really looking forward to seeing what we come up with together.  Hold each other tight.  
Big Love to you all!